Things To Do in and around Galway City
Galway City
Galway is nicknamed Ireland's Cultural Heart (Croí Cultúrtha na hÉireann) and is renowned for its vibrant lifestyle and numerous festivals, celebrations and events. Every July, Galway hosts the Galway Arts Festival which is known for it's famous Macnas Parade.
Major squares in the city include Eyre Square (aka – John F. Kennedy Square), in the centre of the city; and Spanish Parade, next to the Spanish Arch.
A 2008 poll ranked Galway as the 42nd best tourist destination in the world, or 14th in Europe and 2nd in Ireland (behind Dingle). It was ranked ahead of all European capitals except Edinburgh, and many traditional tourist destinations (such as Venice).
Eyre Square
Eyre Square (Irish: An Fhaiche Mhór) is an inner-city public park in Galway, Ireland. The park is within the city centre, adjoining the nearby shopping area of Williams Street and Shop Street. The park is rectangular in shape and the West side of the Square was pedestrianised in 2006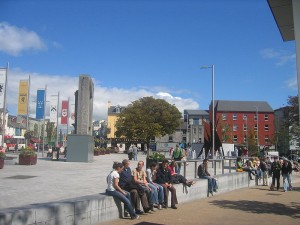 History of Eyre Square
The plot of land that became Eyre Square was officially presented to the city in 1710 by Mayor Edward Eyre, from whom it took its name. In 1965, the square was officially renamed "Kennedy Memorial Park" in honour of US President John F. Kennedy, who visited Galway city shortly before his assassination in 1963. Eyre square received Irish Landscape Institute Design Award in 2007.
Attractions of Eyre Square
There were two large, cast-iron cannon which were presented in recognition of the service of the Connaught Rangers, an Irish Regiment in the British Army, in the Crimean War. A statue of Irish language writer Pádraic Ó Conaire was erected in the memory in 1935. There is a bust of a portrait of U.S. President John F. Kennedy in the park. The Browne doorway is also another attraction in Eyre Square as it was originally the doorway of the Browne families home on Lower Abbeygate Street and it was moved in 1905 from Abbeygate street to Eyre Square.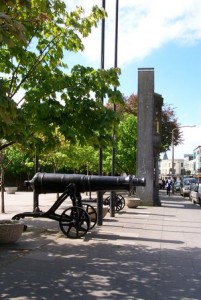 Galway Bay
Galway Bay is a large bay / sea loch on the west coast of Ireland, between County Galway in the province of Connacht to the north and the Burren in County Clare in the province of Munster to the south. Galway city is located on the northeast side of the bay. It is about 50 kilometres (30 miles) long and from 10 to 30 kilometres (7 to 20 miles) in breadth.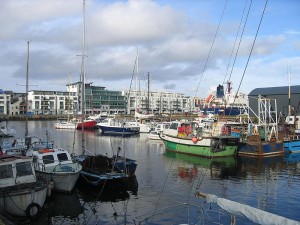 Salthill
Salthill is a seaside suburb of Galway city in the province of Connacht in Galway City. This Galway suburb attracts many tourists all year-round. There is a 2km long promenade, locally known as the Prom, overlooking Galway Bay with bars, restaurants and bed and breakfasts. Salthill is Galway's largest and oldest suburb.